The main reason is the locally created special brand variety of ingredients and the longevity of the store life. The Panchamirtham is used in Abhishekams and then it comes out as Prasadhams. Offering of Prasadham to the god means that "nothing is our own and everything is yours"; a natural and naked truth that man owns nothing; but nature owns him. Another feature of prasadham is that it is to be distributed to and shared with everybody.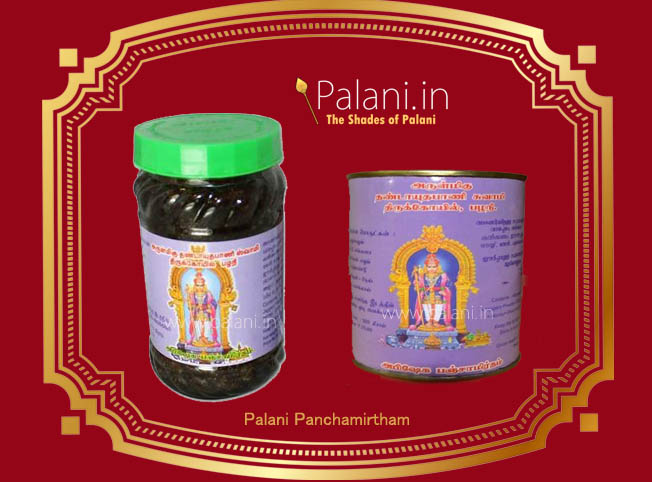 Ingredients
Plantains are from Viruppachi a village in Palani hills. The plantains are small in size; sweet in taste; less in water content.
Kandasari Sugar from Kangeyam, Kismis, Karkandu, ghee, dates and cardamom are mixed in the right ratios.
First the plantains are crushed and sugar is mixed with them. On the next stage seedless dates, Kalkandu and kismis are added. Finally Ghee and cardamom is mixed with the conglomeration. This is used for abhishekams and then distribution as prasadham.
Panchamirtham is scrumptious and can be preserved for long periods of time. The Devasthanam prepares panchamirtham using modern machines in a healthy and pure manner. Panchamirtham can be directly bought from the Devasthanam or its information centers in the Bus stand or Winch station or Vinayagar temple or Tiru Aavinankudi.