Bogar is the creator of the divine deity of the Palani Aandavar – Lord Murugan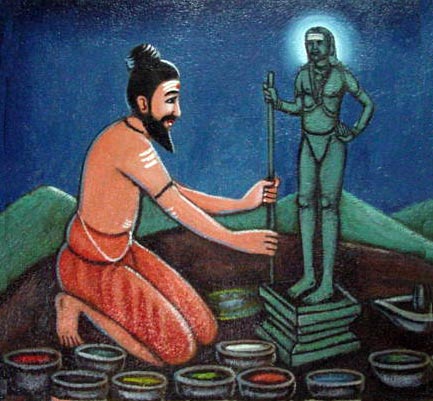 Believed to have lived over 3000 years ago, Bogar was a saint of the almost extinct Siddha cult. He was a Yogi and master craftsman and an engineer in all the areas of science. He is one of the 18 siddhas. He was believed to have undertaken wide travel to spread siddha cult and yoga. He finally selected Palani hills for his Yogic and taps practice.Bogar, an unequalled expert when it comes to siddha medicine, blended over 4448 rare herbs to create the 'Navapashanam'- the 9 pashanas.Mixing these 9 pashanas in the right proportions he created the single master medicine, a cure to all diseases, in the form of the leading deity of Lord Murugan in Palani.Sage Bogar believed that the medicinal properties of the idol can be extracted in the form of Abhishekams.By consuming the abhishekam contents such as milk and panchamirtham poured on this idol, he assumed that the curing capability of the navapashanams can be put to complete use. Whoever takes these prasadhams, they get cured of their diseases. It is a great gift of an ancient Guru to the suffering lot of this period.
The Bogar Samadhi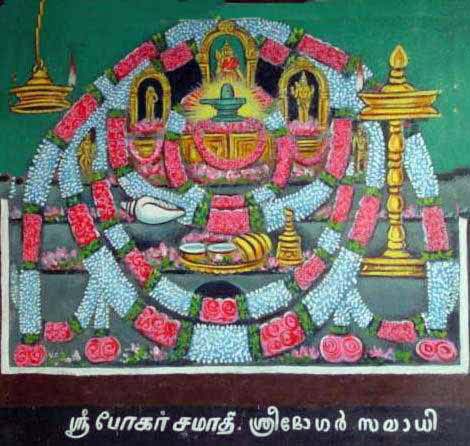 Bogar is also worshiped with fervor among the devotees and pilgrims of Palani. The Bogar Samadhi is at southwest from the shrine of Lord Murugan in a narrow cave like corridor. This is considered to be the place where he had attained Nirvaglapa Samadhi – The highest stage where the mind becomes one with matter and energy which is all pervasive. It is believed that there is an underground passage, constructed by Bogar himself, ending right below the feet of Shri Bala
Dandhayuthapani at the sanctum sanctorum:In Bogar Samadhi we can have a darshan of idols of Arulmigu Bhuvaneswari Amman and Maraghadha lingam which are believed to have been worshipped by Bogar himself. Devotees believe that if one goes there and prays at the Samadhi, the wishes are granted.