Palani Murugan Golden Chariot (Thanga Ratham)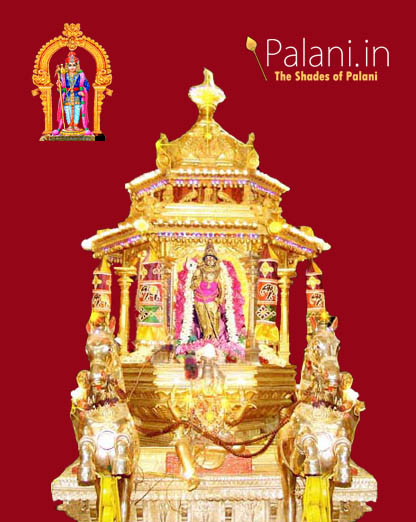 The idol of Chinnakumarar(Palani Murugan), an elegant form made of bronze, is placed on top of a golden peacock giving out a beautiful stature with its widened feathers. Now this striking combination is kept on top of the Thanga ratham or golden Chariot and is taken around the prakaram during Kirthigai days and on specific six festival days.There will not be any such procession of the Gold Chariot on Thaipoosam, Panguni Uthiram, ten days during Dasara festival, Soora Samharam and Karthikai Deepam in Palani Murugan Temple.
The lighted up golden car is absolutely enchanting. People gather just to witness the golden chariot and get the blessings of lord Murugan. Temple asthana nadaswaram, Thiruppugazh bajan group and all other people usually form part of the ceremonious Thanga Ther valam.A devotee has to pay charges if he wants to draw the golden chariot around the prakaram.On kirthigai the Amount is Rs.2000/-
The amount must be paid to the following office at the following address
Executive Officer,
Arulmigu Dandayuthapani Thirukovil,
Palani Adivaram.
Tel : 04545 242236,241417
The devotees usually carry out this process in order to accomplish a pledge or as a form of their gratitude expressed to the lord for curing their diseases or bringing some form of success to their business or life. At the end of the procession the contributor is honored with the parivattam. In course, the procession comes to short stops in front of the bali peedams or altars for religious contributions which are in the prakarams.
For E-booking Golden Chariot (Thanga Ther) online in Devasthanam Website Click here
Know Yourself About Golden Chariot
Palani Murugan Golden Chariot was donated by Mr. V.V.C.R.Murugesa Mudaliar from Erode on on 17.8.1947.