Shanmuganadhi - Periya Avudayar Temple - Palani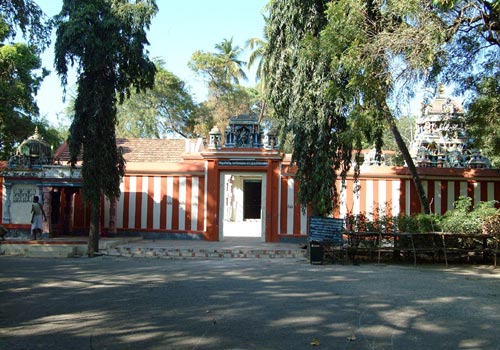 Located at a distance of 4 kms is the Shanmuga nadhi. The buses operate to this river from Palani town.
There is an unestablished rule in Palani that who ever is to visit the shrine of Lord Murugan must take a dip in the waters of this river. It is believed that a person's sins will be washed away if he bathes in the Shanmuganadhi. Kavadi bearers usually take bath in this river before going to the temple. People also perform religious rites for ancestors and dead family members on the banks of this river. During Grahanam and Amavasai days thousands of people take sacred bath in the river.
The Peria Avudayar kovil is on the banks of this river. Periya Avudayar Koil is 3-4 kms away from the adivaram. One has to walk at least one k.m from the road to the temple. The temple is in a serene, sylvan and natural atmosphere. We can feel the pollution free air and hear the chirping of birds.
It is dedicated to Peria Auvudayar or Brahadeeshwarar – the Lord of Universe. The idol is known as Swayambulinga which means a naturally formed Lingam. It is believed to have been there even before the times of sage Bogar. The gods Dakshinamurthy, Rudran and other deities and the 16 ancient inscriptions are the highlights of this temple. Further the Palani Devasthanam has built a kalyana mandapam near the temple for the use of public.